What is each-way betting?
So, it's the day of the big race, your favorite jockey is riding a long shot, and you fancy your chances. You're pretty sure they will come close but not confident they will win. You could go for win-only and bet 'on the nose', or why not have a bet each-way?
What does each-way betting mean?
When you bet each-way, you're placing two bets, one to win and one to place. Your stake is split 50/50 between both bets. Both the 'Win' and 'Place' parts of your bet will payout if your horse wins. But if your horse only places, you will lose the 'Win' part of your bet.
Here's an example:
You bet $10 to win on Solway Honey in the 19:00 at Kelso at odds of 33/1 (34.0).
If the six-year-old romps home and comes 1st, your bet returns $340.
If it comes close but is narrowly beaten and finishes 2nd or 3rd, your bet loses.
Now let's say you bet $5 each-way instead. Your total stake is still $10. The terms for this event are 'First 3 places at 1/5 odds'.
If victory is yours and the win comes in, you get $208 back.
If the race is close, but your selection comes in 2nd or 3rd, your bet returns $38. ((1/5th of 33 * $5) + your $5 place bet stake back).
How do I place an each-way bet?
First, add your selection to the bet slip by clicking on the odds next to your choice.
Next, add the stake in the box and check the 'Each Way' box. You will see that the system has doubled your stake as you're now placing two bets.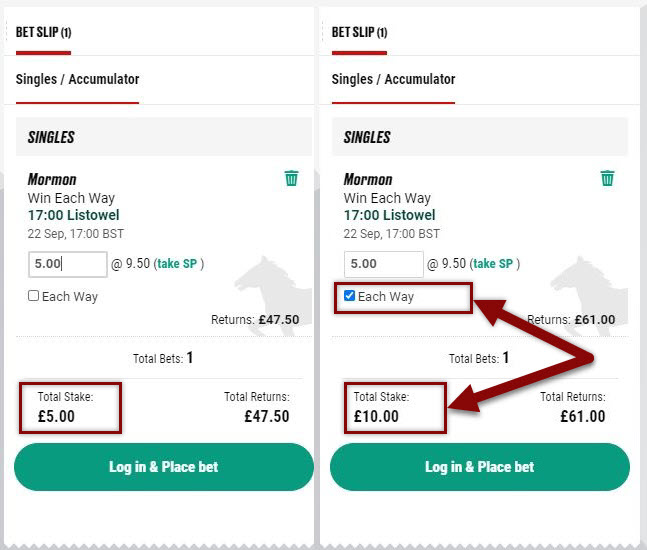 Press' Place Bet', and your wager is struck. Good luck in the race!
How are the place terms decided?
We pay the place part of an each-way bet according to industry-standard terms:
Handicaps with 16 or more runners → ¼ the odds, first four places
Handicaps with 12-15 runners → ¼ the odds, first three places
All other races with eight or more runners → 1/5th the odds, first three places
Races with 5-7 runners → ¼ the odds, first two places
Races with less than five runners → your place bet becomes win-only
You can always check a market's place terms on the race card.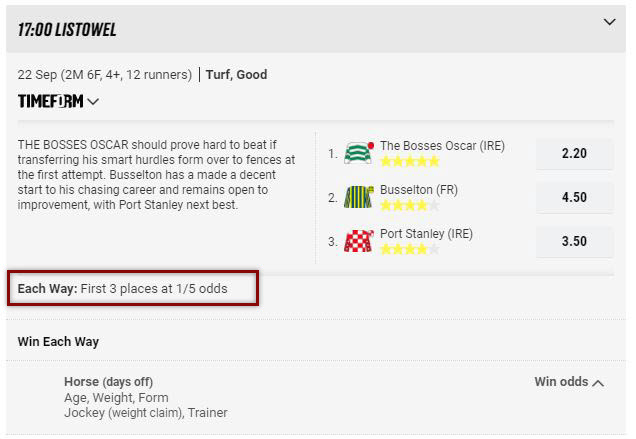 What if a horse pulls out and refuses to race?
Once the starter raises his flag, the field is said to be under 'Starters Orders'. The number of horses taking part in the event at that point decides the place terms. Under normal circumstances, no horse is then allowed to withdraw from the race.
If one or more runners pull out before the starter raises his arm, the place terms might change. For example, if you bet each-way before the off when there are five runners, but only four take part, your $5 each-way bet will become a $10 win-only single.
Why does it say "Win Each Way" on my bet receipt?
If you're unsure whether your bet is win-only or each-way, check your bet receipt above your selection:
If it is a win-only bet, the receipt will display the type of bet you've placed, for example, 'SINGLE' or 'DOUBLE'.
If it is an each-way bet, you will see the place terms instead, like this - 'First 3 places at 1/5 odds'.
The reason it says "Win Each Way" on your bet slip is to show that it was a market that offered each-way betting.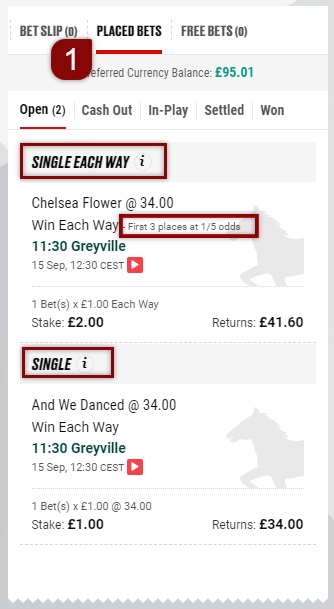 Feedback
Did this article answer your question?